So it's been about a month since I last had a proper catch up with you guys... what's been going on?! In my head, I felt like I'd been sick for basically the entire year so far, but when I sat down to compile this blog post, it took me hours! So I guess maaayyyyybbbeee I've done a few bits and bobs..
Here's what the last month has looked like for me.
There's been a lot of staying warm in lovely baths, using up my Lush Christmas gifts. There have also been a lot of incredible sunsets. So there they all are lumped together in a big lovely colourful cosy lump.
After my last round up post, I headed down to Devon. I had dinner with one of my best girls, and then headed back to my mum's to kiss cats.
While I was there, we had a family gathering to celebrate this adorable little lady's 1st birthday! There was lots of hugging, eating, laughing.. I feel very lucky to have such a lovely family, especially my two beautiful nieces.
After the birthday party, I headed down to Cornwall to stay with my cousin and her wife! I hadn't seen them in a year and a half & it was so nice to catch up and spend some time in the countryside. I didn't really want to leave..
I like exercising in the morning so that it's done and I don't have to think about it, but doing some candlelit yoga in the evening is actually very lovely and relaxing!
I blogged some
living room inspiration
and a wishlist.... *sigh* if only.
Myself and 6 friends booked an adventure to Copenhagen, so I had a little tipple to celebrate! I've been wanting to go for a while, then roped my friend Charli in, and then it kind of snowballed to being 7 of us. I've never been away with so many people, but I can't wait!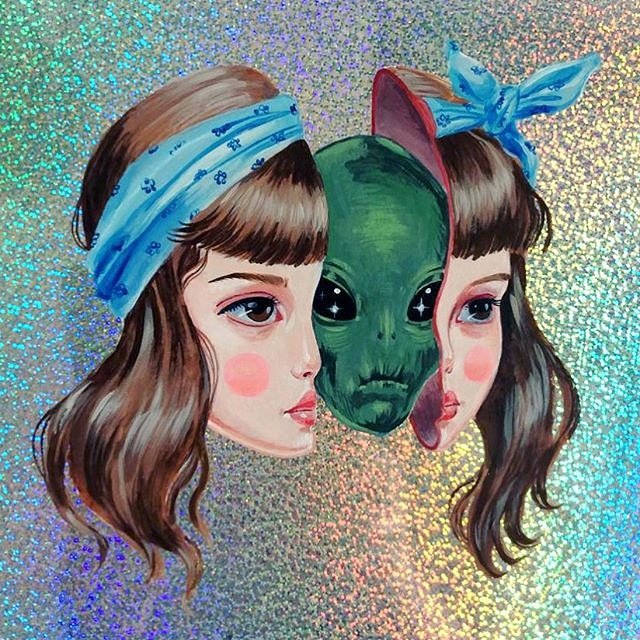 I fell in love with this image, by
Julie Filipenko
.
I blogged about
the reasons why we drink tea
, and you lot loved it!
My brother came to stay with me, we drank delicious coffee, ate Caribbean food, and then went to a gig. We saw Aero Flynn and Minus The Bear and they were both AWESOME.
I wrote a lot over the past few weeks. I write a lot anyway, but I really thought about the importance of physically writing with a pen(cil) on paper. There may be a blog post about it soon..
I started feeling poorly again..
Blogged
an outfit post
featuring this beautiful and unusual necklace.
Aaaaand ended up on antibiotics with some kind of chest and/or sinus infection!
Also,
THIS tweet
by Matt Haig on depression.
Sam and I braved the stormy weather to head to Hart's Bakery. It was my first time and I will DEFINITELY be back. That sausage roll was so tasty and that brick of shortbread... oh boy.
I tried my best to write some cards and letters to some special people.
Charli, her husband & sister came up to Bristol for a gig. We had a rather indulgent early dinner & tooooo many drinks...
Signs of Spring are starting to appear!
Shrove Tuesday was a delicious mess.. I had mine with raspberries, lemon, honey and rose water!
After a poignant conversation, I wrote
this blog post
about how I'd want to be remembered, and whether it could change our attitudes to how we live our lives.
One sunny morning I popped on my running shoes and headed out the door.. it felt good to be out and moving, and it was all worth it once I got here for a sit down..
Treating myself to flowers is one of my favourite things to do... I've been buying daffodil buds a lot lately (see the last catch up!) but I thought I'd get these beautiful pastel tulips instead this time. I'm going to make this a monthly occurrence, at least.
Also, I read this really great article:
To Anyone Who Thinks They're Falling Behind In Life.
Lily picked me up and we drove up to Clifton to have coffee and a late lunch at Mockingbird Cafe. It was delicious, and ridiculously Instagram worthy. Have a read of
Lily's blog post about it, here
!
This giveaway
to win a trip to York Literature Festival, 2 York Passes & £30 book tokens went live, and is still running for another week!!
Go and enter!
Another coffee date, with another blogger pal! This time it was with
Emily
(and her sweet little dog, Puggy) at Margot May. We chatted about blog design, amongst lots of other things. And I somehow resisted all the cakes!
Beautiful
Bee
secretly sent me this Valentine's card, and I secretly sent her one too, and they arrived on the same day! We are so cute and in tune.
On Valentine's morn, I woke up and was sitting on my bed about to get ready for work, when I heard somebody coming up my stairs to my attic room. I said hello, but no one answered... then a certain lovely face appeared with a big beautiful bouquet! I was so surprised!
Valentine's date night.
Went for a huuuuuge sunny walk up to Clifton Downs and back. It was tiring, but so nice to be out in the fresh air!
OH MY GOD I found true happiness at my friend Sian's house with her ridiculously adorable kitten and a couple of glasses of red wine! I'm glad her newly purchased house isn't far away, because I need another cuddle very soon...
Blogged this outfit!
I started working on a few new little bits for the blog. You might have noticed that a couple of things have changed around here and it's suddenly looking very basic. This is to make way for a new look & some new features! Hopefully will all be done in three weeks time.
Another sunny morning in beautiful Bristol.
Another first time bakery experience - this time The Stock Exchange for tortilla/frittata and coffee. Very good. Must go back to try all the cake.
A bit of life drawing over more caffeine ended up with drawing blind portraits of each other and ourselves. I love these!
For dinner we went to Mathilda's Chilli Bar - which I've been meaning to go to since I read Lily's review. I'm going to do a whole blog post on it very soon, but here is a teaser - it was good.
Guess what? I was feeling poorly again. But luckily this lovely package from Kiehl's was waiting for me when I got home from the doctor, which brightened my day.
More antibiotics for little old me. Whatever illness I had last time resulted in me getting an infection in both of my ears... I'm still using these drops for a few more days and then hopefully I will start being able to hear things again!
Pink podge forever.
Another thing cheered me up from my sick bed - I won a haircut & colour on
Kim's Instagram
!
Aaaaand this is me last night. Writing this post. Until gone 11pm, gosh!
As always, you can follow me on Instagram,
Twitter
&
Snapchat
for daily peeps into my life.
What's up next?
Well I have a few people visiting me, and a couple of trips of my own!

I would've been heading up to Cheltenham today, but not being able to hear anything is making me not want to socialise.. so that's going to be postponed.


However, my mum is coming to see me on Thursday, and I can't wait! We're not spending Mother's Day together, so we're having an early one. And we'll be working on some content together, which you'll see on the blog very soon!
At the beginning of March I have two of my best girls from back home staying for a whole weekend! I don't know what we'll be getting up to yet, but I know that I'll have the best time.
British Pie Week is coming up (best week of the year?) and I'll be heading over to
Pieminister
to review their lovely veggie pies.
A few days later I'll be heading up to York with
Bee
for the aforementioned York Literature Festival (if you fancy going you can
enter to win tickets here!
) and to see what the city has to offer. I'm really looking forward to spending a couple of days in a new place with one of my favourite people.
I'll also be heading to a wedding! Hands up who remembers Elliott, who I went out with a few years back? I stayed good friends with him & his family, and his younger sister is getting married! I can't wait! I've also been making the place cards as my wedding gift, and I hope they like them!

Other than that, I'd like to fill my days with more goodness, hopefully go a few weeks without getting sick again, and maybe look into/book some more little and big trips!
How have the last few weeks been for you? Have you got anything exciting planned?
• follow on: twitter • facebook • bloglovin'